Restaurants in Milano Marittima
In Romagna the food and the art of eating well are sacred. Even though primarily there is the tradition, the creativity and the inspiration of Romagna chefs offer many unusual and tasty recipes.
Here you can satisfy your fancies and eat everything, from sushi to piadina, from ethnic food to the 'haute cuisine'.
Follow our tips and find out how many different ways there are to eat in Milano Marittima and Cervia according to the "kind of hunger" and the time you have.
STREET FOOD
PIADINA STALLS
There are plenty of piadina stalls all along the seaside and in the city center. Among them we suggest:
Piadina del mare
Rotonda (rotatory) Cadorna, Viale Colombo, Lungomare (promenade) Deledda
www.piadinadelmare.it
Piadineria Al chiosco
viale Matteotti 146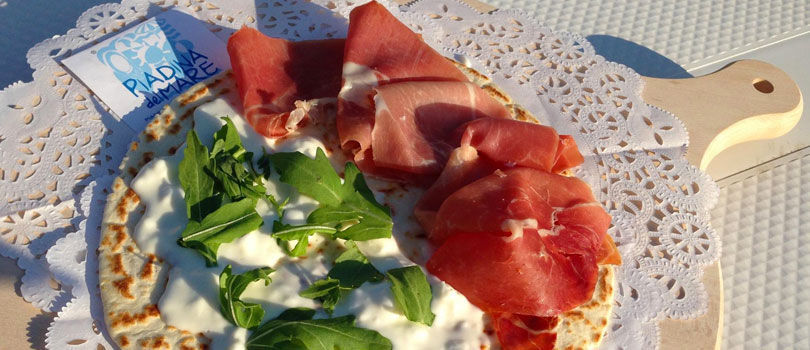 ---
INFORMAL DINNER
Zi Teresa
Historical and informal restaurant, offers seafood cuisine since 1947. The tuna steak and raw fish are the specialties of the restaurant.
Viale Bologna, 15 – Tel. 0544 1889366
www.ziteresa1947.it
Touring
Seafood, meat, pizza and special menus for children.
Viale Matteotti, 87 – Tel. 0544 995495
www.ristorantetouring.it
Lo Sporting
Restaurant with 130 seats in the winter and 250 during the summer, when it's possible to have dinner in the terrace. This restaurant is situated in the center of Milano Marittima and has a nice viewpoint towards the promenade. It offers homemade food and many dishes of local tradition at fair price.
Rotonda (rotatory) Primo maggio 19, Milano Marittima
www.sportingristorante.com
Locanda Sale Grosso
A nice fresh seafood restaurant. In addition to an excellent wine cellar it offers a selection of salts and special oils to combine with the menù dishes.
Viale 2 Giugno, 15 – Tel. 0544 971538
www.ristorantesalegrossomilanomarittima.it
---
REFINED DINNER
Zafferano Anytime Restaurant
Zafferano has a Mediterranean cuisine with an addition of ethnic influences in the dishes. The service called "anytime" lets you eat whenever you want and is, indeed, always available. Recommended especially for breakfast and brunch.
Rotonda 1° Maggio, 2 – Tel. 0544 994468
www.cafedellarotonda.it
Al Caminetto
A very famous fish restaurant, it hosts comic and musical evenings, especially during the summer.
Via Matteotti, 46 – Tel. 0544 994479
www.alcaminetto.it
---
IDEAS FOR AN ALTERNATIVE DINNER
Osteria Loco Squad
Restaurant with a simple and sought-after menu, especially for fresh seafood, and a well-stocked wine cellar. The bar also works independently from the restaurant.
This place is very well loved by the locals due to its snug atmosphere and its bohemian taste.
Viale Forlì, 24 – Tel 0544 992766
www.locosquad.it
La Pousada Beijaflor
Themed restaurant with brazilian cuisine menu, open bar with the option to order only cocktails and listen to music. The booking times are rather long so it is suggested to book before visit the restaurant.
via Rismondi, 1/b - Tel. 0544 995703
www.facebook.com/laposadamima
FOR THOSE WHO LIKE DELICACIES
ICE-CREAM SHOPS
L'Ottocento
Historic Milano Marittima's ice-cream shop, famous for its large garnished bowls. It gives the customers the opportunity to sit at a table in the park of the villa, where the shop is located.
Via Gramsci, 4, Milano Marittima - Tel. +39 0544 992616
Lo Slurp
Ice cream shop in the center of Milano Marittima, excellent for an ice cream during a walk.
Rotonda 1° Maggio 17, 48015 Milano Marittima
OTHER LOCALITIES
If you are looking for a restaurant in the nearby locations of Milano Marittima visit the sections: Restaurants Cervia, Lido di Savio Restaurants, Restaurants in Lido di Classe.